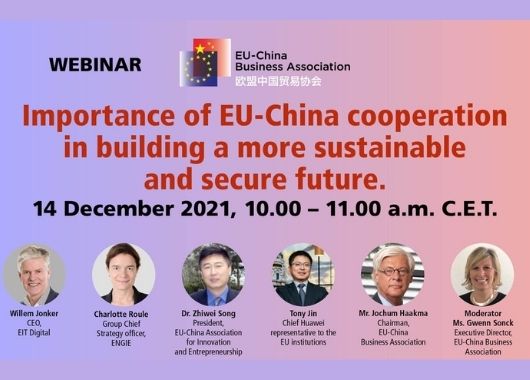 The EU-China Business Association has the pleasure to invite you to a webinar on the subject on 'The importance of EU-China co-operation in building a more sustainable and secure future.' This webinar will take place on December 14th next from 10.00 a.m to 11.00 a.m. C.E.T.
Following the recent COP26 meeting that was held in Glasgow in Scotland, it is clear that there is an increased recognition that society must do more to build a more sustainable future for all our people. This is a shared responsibility. Governments, the private and public sectors must work more closely together if UN climate targets are to be reached.
EU-China cooperation is vitally important so as to ensure that we will build a more sustainable and secure society. This webinar is looking at ways as to how China and the EU can work together to deliver upon these important policy objectives.
To read more information and to register for the webinar,
click here