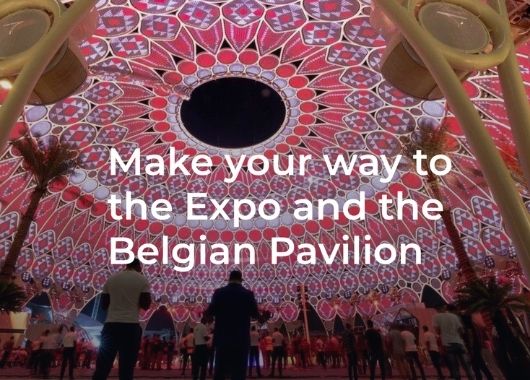 We thought it might be useful to list all the handy info you need when making your way to the Expo, and of course the Belgian Pavilion!
Getting to Expo 2020 Dubai
By metro
The fastest and most sustainable way to get here. The Dubai Metro Red Line takes you from the city of Dubai to the entrance of Expo 2020. First arrivals to the Expo Station are at 06:15 Saturday to Thursday and 09:15 on Friday. Last departures from the Expo Station are at 00:00 Saturday to Wednesday and 01:00 Thursday to Friday.
By Expo Rider and RTA buses                                                                                                                                      Get to and from the Expo 2020 site via a dedicated public bus service: Expo Rider. It's free of charge for Expo 2020 visitors and you can catch it from different locations in Dubai and other Emirates. Just remember where it drops you off as you'll have to take the return trip from the same gate!
By taxi
Dubai's taxis and car hires are plentiful. Taxis can be booked by phone, but the simplest way is to download the Careem, Uber or S'hail app. Through the Careem app, you can also book 'Hala Taxi', which is Dubai's most affordable taxi. There will be a starting flat fee of AED 20 for rides originating from the Expo site.
By car
If you're driving to the Expo 2020 site, you can get here from all major roads. Follow the signs for one of the four designated parking zones.
Watch the video of the spectacular opening ceremony by clicking here.