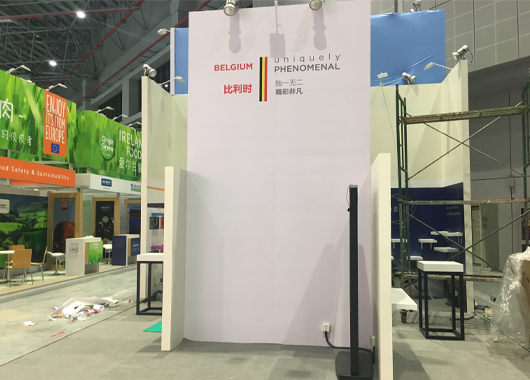 Construction and general preparation work on the booths of The Anchor Group at CIIE has officially started. The main construction work, decoration, the spray paintings by Belgian artist Denis Meyers and the setting up of products and services will be completed by 2 November. After that the expo grounds will be sealed for security checks until the opening on Monday 5 November.
The Anchor Group has three booths at CIIE, in the halls for food, for consumer goods and trade in services and the three booths will present products and services of some 15 member companies of the group. The booths will be further themed with the campaign Belgium, Uniquely Phenomenal.
CIIE is the largest import expo ever organized in China with over 3000 companies from 130 countries exposing over more than 225.000m2 of expo area and more than 150.000 expected buyers.