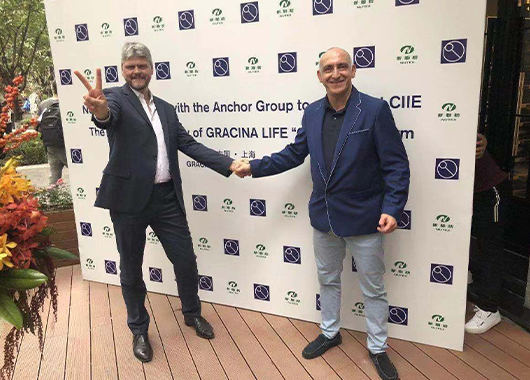 About 120 invitees attended the opening ceremony of the new Gracina Life showroom in the heart of the beautiful old French Concession in downtown Shanghai.
The opening of the showroom was also the occasion to celebrate the partnership between Shanghai New Union Textra for Import and Export (Nutex) and The Anchor Group with an official ceremony.
"The partnership will allow for all members of the Anchor Group to showcase all year round their products in a concept store environment" explained Mr. Zeng Chen, General Manager of Nutex, "Nutex will invite extensive distributors network to come and sample the products". The showroom is an example of the 3 + 365 initiative of Nutex in the frame work of the China International Import Expo. After 6 days of expo, companies can continue to showcase and trade for 365 days after.
The brands that joined The Anchor Group for the 1st China International Import Expo already saw their range of products prominently displayed at the showroom.
"We are of course extremely happy with this partnership and with the facility this offers to our members to penetrate the Chinese market", says Ivan Hiel, Founder and President of The Anchor Group. "It is an honor for us to be here today and celebrate with so many familiar faces".