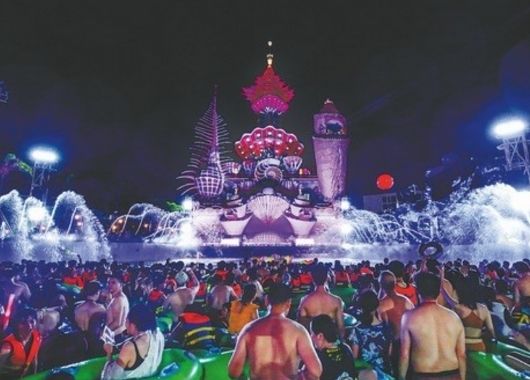 Despite the effects of the Covid-19 pandemic on tourism, China opened nearly 20 theme parks, including the Universal Beijing Resort that opened in September. According to a report by consulting firm AECOM and the Los Angeles-based Themed Entertainment Association, the top 20 theme parks in the Asia-Pacific region saw visitor numbers drop 58% in 2020, but the impact on China has been different from other parts of Asia. The country was the first to implement restrictions and closures, but new parks and attractions continued to open even through the pandemic, though with some delays, says Beth Chang, Executive Director of Economics at AECOM's Asia-Pacific operations. Companies including Overseas Chinese Town and Fantawild opened new parks, while Chimelong Paradise expanded. Ocean Park Hong Kong opened a new year-round water park called Water World.
The OCT Group moved ahead with its expansions and additions in 2020, including a new Happy Valley theme park in Nanjing, Jiangsu province, and three new water parks in Nanjing, Shunde in Guangdong province, and Xiangyang in Hubei province, and several small attractions, including an observation wheel, also in Shunde. Last year, Fantawild opened a new Oriental Heritage park in Mianyang, Sichuan province.
Parks in China saw a first wave of temporary closures last year in late January and the first reopened by late March at about one-third capacity, while the country gradually returned to somewhat business as usual. Last year, domestic air travel and high-speed rail operated at about 90% of normal capacity and outdoor scenic areas and parks did well, with people seeking open, outdoor activities. Bookings to theme parks in the first six months of 2021 increased by 85% compared with the same period in 2019, according to China's major online travel agency Trip Group. "Theme parks have remained one of the most popular tourist choices," says Liu Fangtong, Senior Publicity Officer at trip.com.
This year, four theme parks, including Universal Beijing Resort, Chimelong and Shanghai Disney Resort, made their way to the top five sites during the Mid-Autumn Festival holiday from September 19-21, according to Liu. Fantawild parks are primarily targeted to local audiences, with a focus on themes such as local culture and history. Chimelong Paradise in Guangzhou saw the best returns of the group, and also opened a new show and theme area in 2020. Disney is optimistic about the future. The Shanghai Disney Resort, which is celebrating its fifth anniversary in 2021, announced another increase in admission price taking effect in January 2022. Shanghai Disney has also planned an expansion, with an area based on Zootopia under construction. Development of a new, Frozen-themed area at Hong Kong Disneyland is also underway. "Those moves reflect Disney's confidence in its operations in China, as well as the company's strategy to keep increasing per-visitor revenue," Chang says.
The establishment of Universal Beijing Resort, and the ongoing expansion of Shanghai Disney Resort, continue an upward trajectory for the industry, and reinforce the notion of quality entertainment for parks in China and Asia. "Universal Beijing Resort has also set an exemplary standard in being the first LEED-certified theme park in the world," Chang says. "As China pushes to reduce greenhouse gas emissions and cut its carbon footprint, we will see more innovation of this kind, moving toward reduced energy consumption and more sustainable development with less waste." Moreover, water parks that were allowed to open in China by May were able to attract tourists during summer, though with limited capacity and the need to address guests' hygiene concerns. The Atlantis Sanya resort water park in Hainan province had essentially no loss of attendance this year. It has drawn affluent Chinese guests who weren't able to travel overseas.
The government is promoting the "nighttime economy" to help stimulate domestic demand. Many attractions have added evening activities this year, including water parks that traditionally avoided operating at night. The new OCT Shunde water park has had success offering nighttime ticket discounts, drawing as much as three-quarters of the day's attendance and giving guests the opportunity to experience the park without the intense summer heat. Some water parks are incorporating electronic dance music to night activities to attract younger visitors, the China Daily reports.