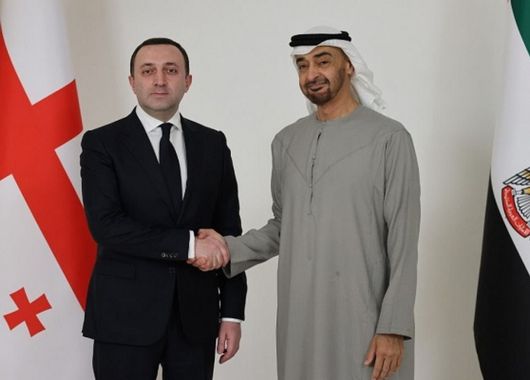 Georgian prime minister Irakli Garibashvili and Sheikh Mohamed bin Zayed Al Nahyan, the president of the United Arab Emirates, on Monday discussed cooperation between the countries and prospects of boosting trade ties and investment at their meeting in Abu Dhabi, the Georgian government's press office said.
Praising the "fruitful cooperation" between the two countries in various fields and a "high-level political dialogue" evidenced by visits of senior officials from both states, the officials expressed readiness to further strengthen cooperation.
The sides noted negotiations to establish free trade between Georgia and UAE were ongoing "actively", with the head of the Georgian government highlighting a number of projects in the country that had been funded by Arab investors.
He also pointed out establishing a free trade zone would create a "favourable climate for the promotion and development of economic and trade relations" between the two countries, with the discussion also touching on the importance of a "full use" of the potential of ties in tourism, energy, and transport.
The officials highlighted the 84 percent increase in the trade turnover between the countries over the past nine months, noting the figure had reached $190 million.
The Georgian delegation, chaired by the PM, arrived in Abu Dhabi early on Monday to hold "high-level meetings".
The delegation includes Levan Davitashvili, the vice prime minister and minister of economy and sustainable development, Ilia Darchiashvili, the minister of foreign affairs, and Revaz Javelidze, the head of the government administration.