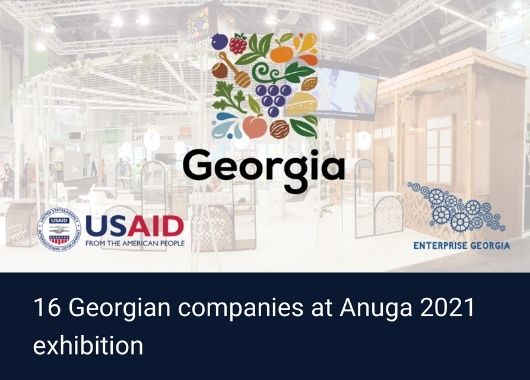 From 9th to 13th of October, with the support of "Enterprise Georgia," The USAID Agriculture Program, and the #EU4Business project: Ready to Trade, 16 Georgian companies will be presented at the International Food and Beverage exhibition – @Anuga 2021.
Anuga is one of the largest and most important events in the beverage and food sector, which aims to establish business links with potential international partners and customers, popularize the country's export potential and diversify export markets. The exhibition is traditionally held in Cologne, the Federal Republic of Germany. The event has more than 165 000 visitors, and more than 7 400 international exhibitors display their foodstuffs, ranging from ingredients to processed products.
Within "Enterprise Georgia's" Export Promotion program Georgia participates in this exhibition for the fourth time. It should be noted that with the USAID Agriculture Program support, at Anuga 2021, Georgia is presented with the new visual branding of agriculture for the first time.
In the scope of this project, several companies were co-financed to participate in the exhibition, in which the EU4Business project – "Ready for Trade" provided support as well.
The Georgian delegation is presented with various products. The companies mainly display nut or fruit products, natural vegetable and fruit juices, honey, wine & sparkling wine, dried fruit, and tea goods.