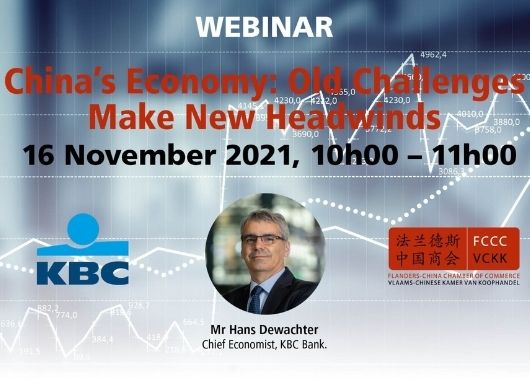 The Flanders-China Chamber of Commerce has the pleasure to invite you to a seminar focused on China: Old Challenges Make New Headwinds. Hans Dewachter, Chief Economist, KBC Group, will shine his light on the matter.
China's structural economic slowdown has been ongoing for a decade, and the same challenges have been brewing under the surface since the post-GFC period. These challenges include demographic changes, a very high savings rate, an over-reliance on credit-intensive growth, and a corresponding buildup of leverage in the economy, particularly related to the real estate sector. Deleveraging has been on the agenda for several years given growing concerns that China's economic model is unsustainable and could end in a so-called "hard landing" of the economy if not a crisis. Progress in deleveraging has been slow, however, and in the post-pandemic recovery period, the above-mentioned headwinds appear to be gaining force and are accompanied by other challenges related to the climate transition. What do these developments mean for China's macroeconomic outlook? Is the current slowdown a cyclical blip, or something more sustained and potentially more worrisome?
This webinar will take place on November 16, 2021 at 10h00.
Program:
10h00-10h05: Introduction by Ms. Gwenn Sonck, Executive Director, Flanders-China Chamber of Commerce;
10h05-10h50: Speech on the macro-economic prospects in China by Mr. Hans Dewachter, Chief Economist, KBC Group;
10h50-11h00: Q&A Session.
Practical information:
Date and time: November 16, 2021, 10h00-11h00
Location: Online
SUBSCRIBE BY CLICKING HERE