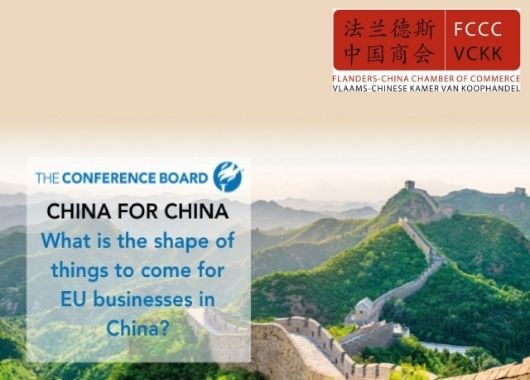 The Flanders-China Chamber of Commerce in partnership with The Conference Board is organizing a webcast on: "China for China: What is the shape of things to come for EU businesses in China?". The webcast will take place on June 1, 2021 at 09:00 am.
Many EU business leaders perceive China operations to be at an inflection point. In general, the long-term China opportunity is considered strongly positive and an essential pursuit. But business environment changes are myriad, and risks, complexities, and adaptation requirements are profound.
The current trends point to highly localized, increasingly autonomous, if not quite separated, Chinese operations – a future many describe by the phrase "China for China". This webcast will examine "China for China" trends, imperatives, dynamics, and learnings based on the ongoing research of The Conference Board China Center for Economics and Business.
To register for free, click here